To make a saddle fitting appointment, please complete the inquiry today. If available, please attach photos of your horse (square) noting side conformations and hind end coming into shoulders- best taken standing upon a stool, allowing for sufficient height. As I am off property several days a week, I kindly ask to please allow up to 72 hours for response. Thank you.
If I have photos of the horse:
from behind (standing on stool) to understand the hind coming
into the shoulder, and left & right sides- horse square, capturing feet
again, with a sore back- or perhaps out of bad habit- horse will not stand
square, so we do our best : )
By having the photos I will be able to bring available samples;
As I deal primarily with new saddles, starting at $1500 and upwards,  please include
budget; by using symmetrical models, I will be able to show you what we
are looking for in a properly fitted saddle. I will request that you ride so we
may understand the Symmetrical Rider Values, and how that will influence
Horse engagement/movement.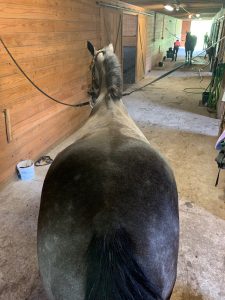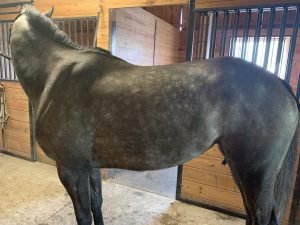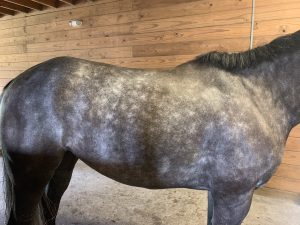 Service Fees
Our Services and Fees are listed below; Please Email to schedule an appointment or request a service:
Saddle Fitting Appointments:  New Record $265.00 per (50 mi Radius)
Includes Static Evaluation & Tracings
Includes Dynamic Evaluation of Horse & Under Saddle
Bridle Position and Fitting
Charge Per Additional Horse- $95.00
Barn Call: Established record for current Client/Horse $195.00 per (50 mi Radius)
For Horse & Saddle Evaluations within 50 Mile Radius
over 50 mile radius, quoted
On Site Flocking Adjustments: Quoted
Saddle Trials: 10 day term secured by Credit Card
Saddle Return:
Onsite Pickup                      $85.00
New Trial Drop Off            $85.00
Drop-Off, Re-Fit, Under Saddle Evaluation    $185.00
Saddle Rentals: please refer to Main Page
Remote Q&A: 
Anatomical Review, Suggested Models, Search Recommendations:  per communication: $85.00
Complete Strip Flock: $325.00
Includes inspection of Gullet/ Head Plate
Compromised Tree Charge (Non-Refundable)- $75.00
Head Adjustment: Quoted 
+/- 1 Width, Restrictions Apply
Compromised Tree Charge (Non-Refundable)- $75.00
Billet Replacement:  $100-$225.00
Minimum of 2 Billets per Side
Charge Per Additional Billet- $55.00
Drop panel for Point Billet replacement- $45.00 Additional